Taj Mahal Tour Packages – Dream To Travels 
Taj Mahal is amongst the 7 miracles associated with the World, situated in the city that is mughal of in India that still holds its magnificence additionally after years of its building. This construction is certainly stunning of marble was created by Mughal Emperor Shah Jahan for their valuable partner, Mumtaz Mahal in her own memory. Delhi to Taj mahal tour packages We recognize the requirements entailed with having a tour package into the Taj Mahal at Agra so make sure an exclusive vacation knowledge gives you the opportunity to check every element away from the Taj Mahal. Delhi to taj mahal tour packages Couples out of every part involved see this icon this is certainly famous of and also to appreciate its attraction. Book Taj Mahal tour plans with a dream to travel at the cost that is best.
READ MORE
Tour Packages to Taj Mahal
Best Taj Mahal Tour Itinerary No. of Days Price*
Taj Mahal Tour Packages For Honeymooners Same Day
Enchanting Taj Mahal Tour Packages 01 Nights / 02 Days
Best of Taj Mahal Holiday Package 01 Nights / 02 Days
Exotic Taj Mahal Tour from Mumbai 01 Nights / 02 Days
Amazing Taj Mahal Tour from Delhi 02 Nights / 03 Days
Taj Mahal Tour
Agra has the most sought monument that tourists especially stop by to visit, which is the Taj Mahal. The most spontaneous attraction of Agra is the Taj Mahal which holds its foundation in the history of the Mughal era. Delhi to Taj mahal tour packages   It is Agra, Delhi, and Jaipur that form the Golden Triangle, illustrating the vibrancy of the places making it a popular holiday getaway! If you want to spend quality time with your family or spouse in the midst of Agra with the white marble monument stood with magnificent architecture, then grab one of the many exclusive Taj Mahal Tour Packages made available by Dream to Travels. 
When must you travel to Agra for a vacation?
There is no perfect time when you can pay a visit to the Taj Mahal, but it has been seen and observed that the peak time when people seem to travel to Agra for watching the Taj Mahal is from the months of October to March,  throughout the day and especially during the sunrise and sunset, its glory becomes unforgettable.
Best means to reach Agra
If you ought to travel via flight, then you will be landing at the Kheria airport that is the nearest to Agra which is located just at a distance of 13 km.
If you choose trains to travel to Agra, then there is easy connectivity from all the major cities to the nearest Agra Cantt station from where the Taj Mahal is just a few kilometers away.
What are the places to explore Near the Taj Mahal?
The taj Mahal is popularly known to be one of the seven wonders of the world, making it one of the most attractive tourist spots witnessing innumerable tourists in a day throughout the year. Delhi to Taj mahal tour packages It holds its historical significance which says that Emperor Shah Jahan built the monument of white marble in memory of his empress Mumtaz Mahal. 
Fatehpur Sikri is another historical monument that has been declared as one of the UNESCO heritage sites,  built by Akbar. The red sandstone art of fine architecture is brilliantly making its way to attract tourists every year.
The Red Fort of Agra, which is made out of red sandstone is another addition to the UNESCO World Heritage which is just 2.5 km away from the Taj Mahal. This came into effect for Emperor Akbar!
The Tomb of Akbar is a masterpiece coming from the Mughal architecture lying in the suburbs of Agra, on the Mathura road.
If you are fond of Pethas (sweet item) then Agra is the most popular place storing the same. From various handicrafts to jewelry boxes and leather goods to plaques, you can buy it all from the profoundly cheap markets out there.
What to eat in Agra?
If you are in Agra, and you did not have Petha then your trip is seriously incomplete. Delhi to Taj mahal tour packages There are numerous flavors of the same made out of white pumpkin or ash gourd which is soft and hard.
If you want to tuck in the tastiest parantha in Agra, then explore them all that vary from potatoes, radish, cauliflower to carrots, serving as a great dish that can be eaten at any time of the day for a meal.
Make space for Aloo Tikki which is also known as Bhalla that is a favorite dish of the North Indians.  It is made of mashed potatoes that are flattened served with chutney.
The non-veg cuisines that steal the hearts of the masses visiting the place are tandoori chicken, Shawarma, and Mughlai.
What is so special about the Taj Mahal?
Taj Mahal is renowned as an ivory-white mausoleum in Agra that was built by Emperor Shah Jahan between 1631 and 1648 for his wife, Mumtaz Mahal situated in Agra. It is a mesmerizing sight for the honeymooners and couples, Delhi to Taj mahal tour packages in general for it is regarded as an epitome of love holding a historical ensemble of Muslim art.  Now, it is one of the proclaimed UNESCO World Heritage, witnessing immense visitors every year.
Why is Taj Mahal Tour Package the best at Dream to Travels?
You must be eager to know why selecting Dream to travel create wonders in your trips. Swan Tours is one of the most prestigious agencies (operating since 1995) which aims to serve all its domestic as well as international clients to the Golden Triangle tour and throughout North India. When it comes to choosing the Taj Mahal Tour Package, then Dream to Travels is responsible for the booking, transfers, and everything lying with the tour package with expertise. Other than the same, it offers customized tour packages at budget-friendly prices!
Interesting Facts About Taj Mahal
Below are some of the facts that you may find interesting about the Taj Mahal:
If it wasn't for the Yamuna river, the foundation of the Taj Mahal may have collapsed. Yes,  the foundation is made of timber that was actually not long-lasting. It is because of the Yamuna river that the wood is still strong and moist
The Taj Mahal is five feet taller than the Delhi heritage Qutub Minar
Did you know that Agra was not the original site for the Taj Mahal? It was earlier supposed to be built in a city called Burhanpur where Mumtaz Mahal died. Sadly, the city couldn't supply enough white marble and hence it was decided to build this historical monument in Agra
Depending on the light outside and the time of the day, Taj Mahal Tour Packages From Delhi the monument appears to change colors. If you happen to visit the beautiful Taj during sunrise, it may appear a little pink while the color changes to white in the daytime and shades of golden after sunsets
There is absolutely no proof of the arms of artisans being cut off so that no such monument was ever built again. It simply sounds wrong and most likely is!
There is a lamp inside the Taj Mahal that has the name of Lord Curzon, the Viceroy of India inscribed on it. It was one of his gifts to this beautiful monument
In the year 2007, the UNESCO World Heritage Site classified Taj as one of the seven wonders of the world
Taj Mahal is one of the most visited monuments in India. The monument witnesses over 4 to 8 million visitors annually
Tips
If you are planning your trip to India, we are definite that visiting the Taj Mahal must be on your list of must-visit tourist places. Well, here are some tips you should keep in mind before visiting Taj Mahal tour packages: 
We all know that the Taj Mahal is one of the most beautiful buildings in the world. But do you know more about its history, Taj Mahal Tour Packages From Delhi interesting facts, and more? Well, we recommend you read about the Taj Mahal before your visit
Know the best time to visit (We are sure by now you already are aware of that)
We recommend you to buy tickets with exact change to avoid hassle at the ticket counter
Read the things you are not allowed to carry in advance
Dress respectfully as it is a memorial
The place, in general, is very crowded so be careful if you are traveling with children
Wear comfortable shoes as you'll have to walk a lot
We recommend you hire a guide to make the most of your trip
 Dream To Travels When you book a Taj Mahal tour package from dream To Travels , we assure you make the most of your trip. Our customized packages take into account all the needs of the travelers and give you a detailed view of this wonder of the world's Cheapest Taj Mahal Tour Package From Delhi You can even customize the tour package according to your preferences. Our expert trip planners help you out at each step of your journey to make your trip a memorable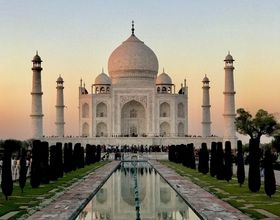 Taj Mahal Family packages 
03 Nights / 04 days
Covered Places – India Gate > Taj mahal